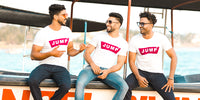 JUMP
Revolutionizing the fashion arena since 2015, JUMP has strived to showcase the best in menswear mirroring international runways and global trends. Highlighting quality and value for money, our clothes range from style staples to classy smart wear while maintaining an aesthetic of chilled, eclectic vibes.
Our stores have been carefully designed to match our ethos by personifying the true essence of the word JUMP -- cool, exuberant and always ready for the next adventure!With three stores and a growing online presence, JUMP also supports local talent by housing designs and fashion curated by Sri Lankan designers in an effort to make the local, international!
SAMEERA WEERASINGHE
Founded by Sameera Weerasinghe in 2015, JUMP fashion house best known for its bold use of pattern and print. JUMP menswear collections combine old traditions with new, fusing timeless fabrics with hand-painted details to incorporate originality and elegance into its sleek designs. This trendy brand is known for a clean, modern aesthetic with strong shapes and directional cuts.